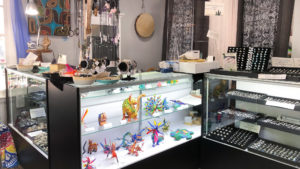 NOW OPEN!
Sunday – Thursday: 10am – 5pm
Friday – Saturday: 10 am – 5pm
Castle Art & Import in Fish Creek, WI
After many years of offering henna and unique sterling jewelry designs at festivals and markets, 2020 changed everything. Markets and Festivals were cancelled.
Owner Amy Wilde had to adapt.
In July of 2020, she opened the Castle Art shop in Fish Creek, WI.

The new Castle Art shop offered a place for Amy to sell her jewelry, henna supplies and colorful imports, as well a safer place for her and other artists to offer henna.
Amy also invited other small businesses and market vendors to bring their wares. They continue to sell their art, hand-crafted goods, and other specialty items at the shop.
Henna Services and Supplies
Offering temporary henna tattoos drawn by skilled local henna artists. 100% natural henna, always.
In addition, we offer a variety of henna supplies including ready to use cones, kits, natural henna powder, and more.
Sterling Silver Jewelry
Offering a huge selection of unique sterling silver jewelry set with Larimar, Labradorite, Moonstone, and other semi-precious gemstones. Browse rings in many styles and sizes, dainty and large pendants, earrings, and bracelets. Jewelry designed by Amy Wilde.
Colorful Imported Home Decor


Including:
Turkish Lamps
Mexican Folk Art Alebrije Sculptures
Colorful Floor Pillows
Circular Tapestries
Original Art, Hand-Crafted Items and More
The New Top Of the Hill Shop in Fish Creek currently focuses on the Turkish Lamps. We have so many styles to choose from.